Clinically Formulated Skin Care & Herbal Teas
Dr Irene Prantalos (Chinese Medicine) has been effectively treating patients with skin conditions for over 18 years.
One of themost common triggers for skin eruptions is the usage of poor quality skin care or poorly suited skin care products. The integrity of the skin barrier is essential to rejuvenating the skin and encouraging its natural defences to be optimal and healthy.
Salubre Cosmeceuticals skin care range is formulated based on the principles of Traditional Chinese Medicine to rejuvenate the natural balance within the epidermis to improve skin health. 

ECZEMA & PSORIASIS TOPICAL RELIEF
Constantly looking for answers to alleviating your eczema or psoriasis is exhausting and costly. This is something our formulator, Dr Irene Prantalos (TCM), also experienced for many years during her journey to find answers to her erythrodermic psoriasis. 
Salubre Therapeutics is formulated with healing oils, Chinese botanical extracts and luxurious nourishing butters that have been traditionally used to reduce inflammation in the skin, reduce itchiness by hydrating the skin and increasing movement in the skin. Common skin concerns that Salubre Therapeutics is suitable for includes dandruff, dry skin, eczema and psoriasis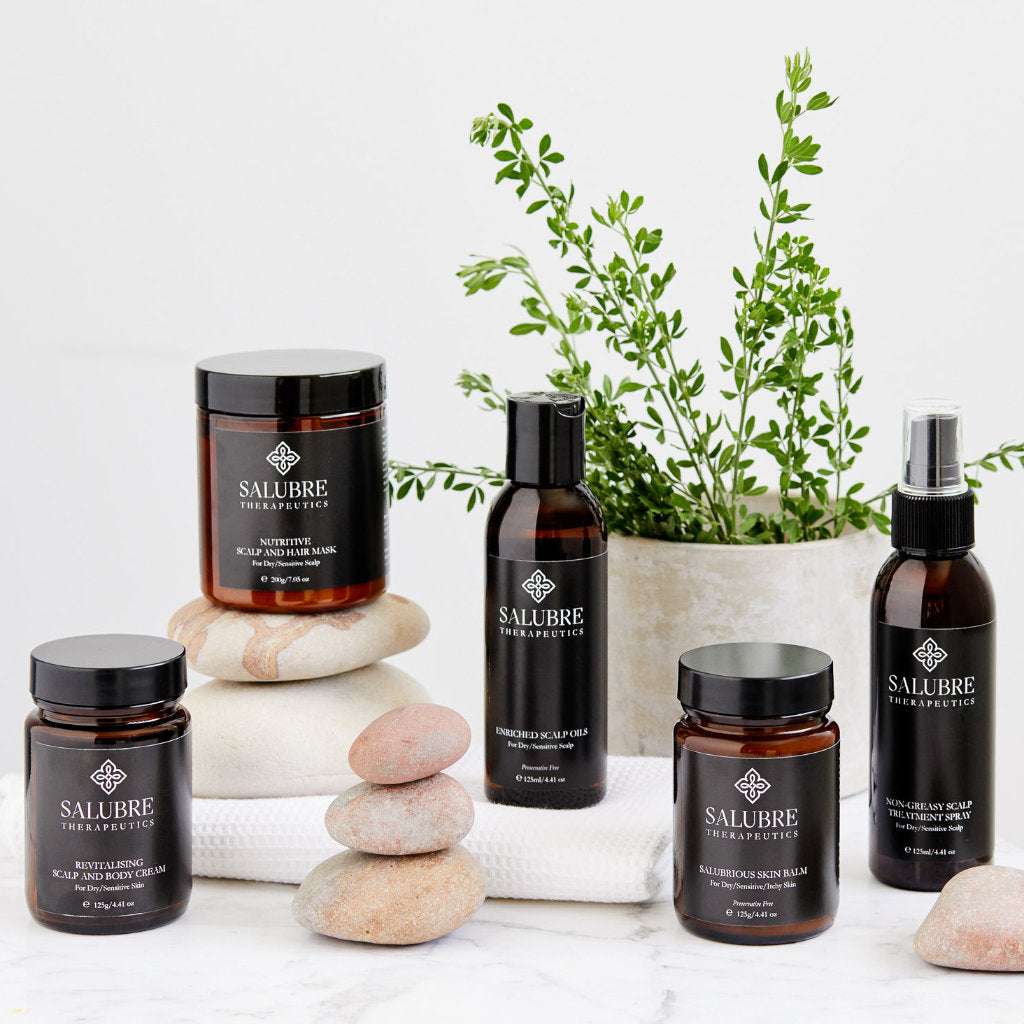 ACNE SKIN SOLUTIONS
The Flawless Range is designed to effectively assist with replenishing acneic skin. The herbal extracts in this range aim to repair the appearance of the skin while removing excess oil to promote cleaner skin. 
Extracts such as honeysuckle, witch hazel, and loquat leaf function to clear redness, while astragalus and glehnia root help repair the appearance of the skin. 
In addition, gentle alpha lipoic acids are used to remove excess oil and dead skin cells from the surface while noncomedogenic oil hydrate the skin to avoid over production of sebum, hence providing a cleaner, healthier appearance to the skin.

THE AMAZING BENEFITS OF HERBAL TEA
Digest and Detox Tea
Helps beautify your skin and helps manage bloating, indigestion and sugar cravings.
Sereni-Tea
Eases the feeling of stress and anxiety while increasing energy and mental clarity.
Luminosi-Tea
Helps reduce bacteria and inflammation in the skin and encourages the natural healing process in the skin.
Longevi-Tea
Helps fight free radical damage and protects collagen production to reduce the signs of premature ageing.
Tranquili-Tea
Transcends you into a peaceful night's sleep by calming the mind and nurturing the gut-mind connection.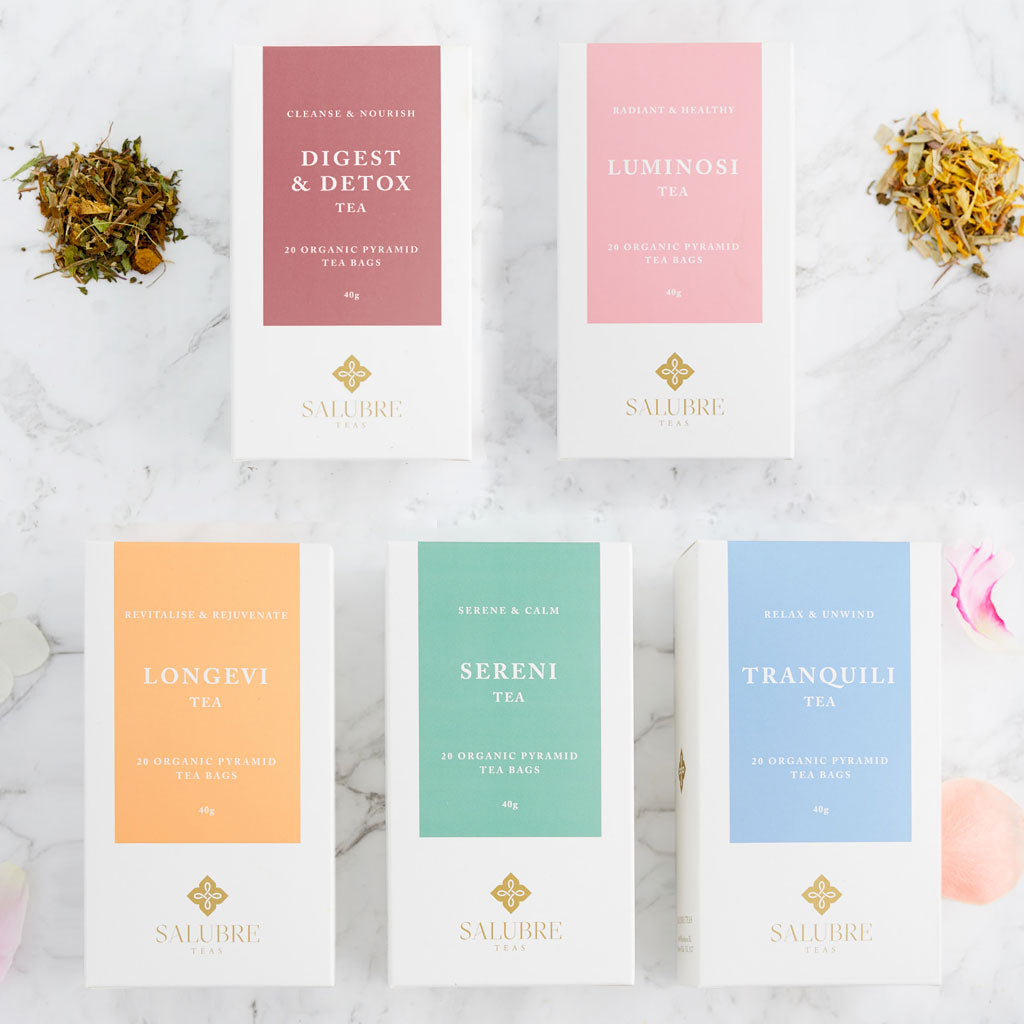 ANTI-AGEING SKIN REJUVINATION
The Pearl Brilliance range is tailored toward addressing the needs of mature skin.
As skin goes through the ageing process, its daily requirements change to require more anti-oxidants to fight free radicals which form from our diet, exposure to the sun, cigarette smoke, pollution and stress.
Pearl Powder has great anti-ageing benefits to mature skin. The Pearl Brilliance Organic Skincare range was formulated with using Pearl Powder as the main active ingredient.

REDNESS & SENSITIVE SKIN SOLUTIONS
Pure Delicacy is formulated for sensitive skin types.
The range aims to provide hydration and reduce sensitivity through herbal botanical extracts. A mixture of healing oils such as Macadamia Oil, Pumpkin Seed Oil, Coconut Oil, Marula Oil, and Kukui Nut Oil naturally replenish the protective skin barrier to minimise sensitivity. 
While the herbal extracts such as Green tea, Witch hazel, Astragalus, Dong Quai, Rehmannia, Tribulus, Licorice, Olive leaf and Seabuckthorn together with Vitamins B5 and E repair the appearance of the skin to enhance your natural beauty.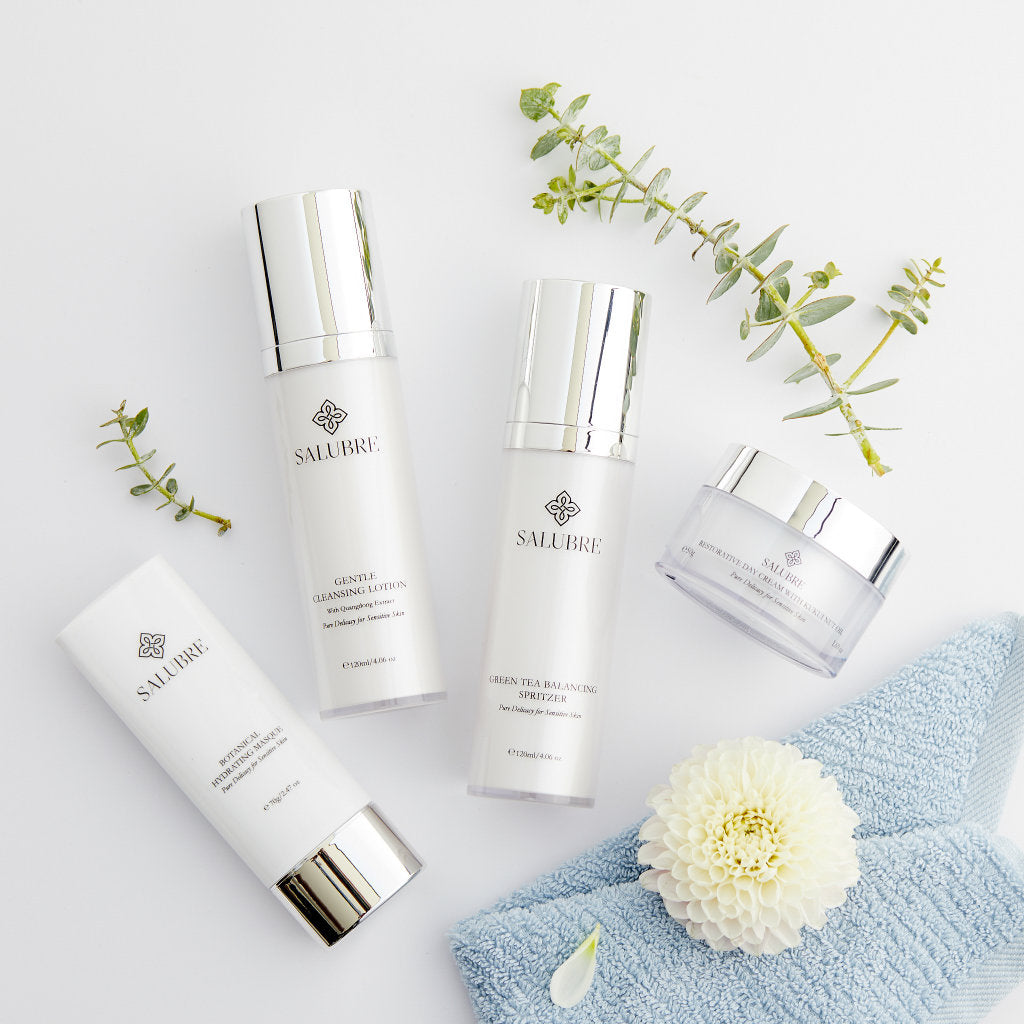 Practitioner developed skin care for
people with skin issues
DR IRENE PRANTALOS
Dr Irene Prantalos (Chinese Medicine) knows too well the highs and lows of managing a skin condition. As she was covered from head to toe with psoriasis. Spending many years on trying to find a solution led her down the path of studying Chinese Medicine just to try and help herself out of a very challenging time with her health. After being hospitalised twice and being told there was nothing conventional medicine could do, Dr Irene tested many therapies. 
Chinese Medicine worked for her and has a great effect on her patients with skin issues such as eczema and psoriasis. Her focus is on reducing the inflammation in the skin, NOT suppressing the immune system. Suppressing the Immune system will only cause side effects in the body that lead to future flare ups and more distress and pain.
Proven traditional
herbal medicine
Target and manage
skin concerns
Repair your skin's
natural beauty
Healthy skin-improving
ingredients
Australian
made and
owned